The "green things growing" whisper me Of many an Earth-old mystery. -Eben Eugene Rexford
We all are accustomed to celebrating Earth Day every 22nd April. The primary reason behind this is the alarming condition of our mother earth in the present scenario.
For our own well-being, we must be accountable for our actions, isn't it? Therefore, nurturing our precious natural resources, picking up all the litter while taking a stroll through the woods, saying no to plastics, or buying Earth-friendly products are some of the least things that we can do.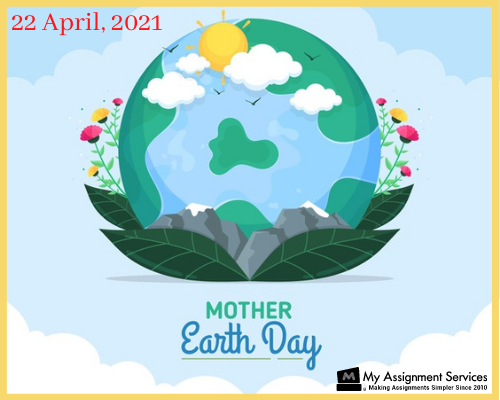 This year, it will be the 51st anniversary of Earth Day. Every year, there is a unique theme for this day; this year, on 22nd April 2021, the theme is "Restore Our Earth". Almost every year, the events that are associated with Earth Day are characterised by cleaning up the rivers and removing invasive plants. However, with the world turning digital presently due to the pandemic lockdown conditions prevalent in the world right now, even Earth Day will be celebrated digitally. So this year, we will get to witness a plethora of environmental lectures and films online on this day.
What Is Earth Day?
Ever wondered what is the history of Earth Day? Well, it all began in the year 1970, when on 22nd April John McConnell and Wisconsin Senator Gaylord Nelson pleaded the Americans to be a part of a grassroots demonstration. There were so many adverse issues that persisted in the world back then that they wanted to eliminate. Some of them included:
Toxic drinking water
Effects of pesticides
Air pollution
Soil and land pollution
To the utter surprise, over half of the American population (20 million) stood up, united, and protested against these issues in the demonstration. During that time, the president was Richard Nexon, under the leadership of whom, the Environmental protection agency was formed. As a result, many new laws were introduced and executed such as the Endangered Species Act, Clean Air Act, Clean Water Act, and more. Nelson coined 22nd April as the official Earth Day.
Today, the day has transcended from being just a means to increase the awareness of people on various environmental issues to a commemoration where different communities come together and plant trees, ponder over the magnificence of nature, clean up the garbage, and more.
How Do People Celebrate Earth Day On 22 April, Every Year?
There are various ways to celebrate this day, every year. We all can come up with our own and innovative ideas to do our bit to control climate change and global warming in the world today.
Our professional experts who have been providing assignment help to students all over the world have curated a list of few ways how you can celebrate Earth Day this year by staying inside your home. All you need to do is appreciate and respect the natural world, isn't it? These are:
1. Support the pollintors
You can simply bring native bees to your garden. Even other pollinating creatures would be great. For this, you just need to focus more on choosing the appropriate plants. You can spend a little time researching the plants that attract butterflies or say melodious hummingbirds. Also, you can study more about native bees. This way, you can easily support the pollinators in your garden sitting right at your home!
2. Pick up all the litter, especially the plastic bags
It is a known fact how adversely plastic bags affect the environment, isn't it? Perhaps, you know an area nearby your place that is overflowing with plastic bags, don't you? Then, what are you waiting for? Just take a trash bag with you and pick up every plastic bag that you come across in your way. You'll soon realise that plastics have permeated every aspect of our life. So, it's time now for a quick cleanup!
3. Spend a little on planting a tree
No one is oblivious to the benefits of planting a tree for our environment. So why not go out and get a small tree for planting? Just by doing this, several insects would come straight for the pollination process to take place. One tree can make a huge difference for Mother Earth.
Well, these are just a few of the easiest ways that people do to celebrate this special day all over the world. You can do the same, or invent some new methods for yourself. After all, it's just about doing some efforts for bringing improvement to the current climatic situation across the globe.
Join Hands With Us And Celebrate Earth Day On 22nd April 2021!
My Assignment Services is a benevolent organisation that plays an indispensable role in the lives of students. Knowing the hardships of students with their assignments, we have been known to provide superior-quality assignment help services all over the world. With the help of our innovative value-added services, we ensure to fulfill all the expectations that you have from us.
With Earth Day around the corner, you can simply hand over all your assignments to us. While we work upon them, you can simply think about new ways to make the most out of this day for the betterment of Mother Earth.
When you place an order with us, the following are the benefits that we have in store for you.
Multiple quality checks
A variety of samples
Unlimited revisions
Discounts and offers
Place your order with us now.
Happy 51st Earth Day!