As rightly said by Mezirow, "Deciphering the meaning of an experience is even more important than the experience itself" (Mezirow, J. (1997). Transformative learning: Theory to practice. New directions for adult and continuing education, 1997(74), 5-12.), isn't it enough to let you know the importance of reflective learning for students?
A majority of us come cross experiences in our lives that do not have any relation to the present. There has been no learning in those experiences, which the psychologists refer to as the "episodic grasp of reality". With the advancement of thinking, now the situation demands students to be efficient in creating links and connections for deciphering useful meaning from their day-to-day experiences. This is where reflective learning takes the toll. There are several facets of reflection. When a student reflects upon work, they decipher its meaning. Similarly, when they ponder over their experiences, they get a deep insight into those experiences.
Reflection takes place through a process known as scaffolding, which is relating a current experience to the learnings of the past experiences. Delving into the cognitive and emotional resources are required so that the tactile, visual, kinesthetic and auditory senses work diligently, in a harmony. Reflection is an integrated chain of processes like processing data, synthesizing and evaluating it followed by implementing the learning to situations beyond the specific context.
In the last ten years, we have provided excellent student refection essay writing services in Canada and all over the world. Let us help you know more about how to write a reflection paragraph.
If you have been confused about the difference between descriptive writing and reflective writing, then probably, we have been able to clear it for you. Now, let us proceed further.
Have A Look At The Four Modes Of Thinking To Get A Clear Picture!
To understand student reflection paragraph better, it is imperative that you have a basic understanding of the four types of thinking. In the last ten years, our experts have conducted thorough research in this field and aided students in deciphering the true essence of reflective learning. As a result, we have fostered a holistic development in students that have ultimately impacted the way of writing student reflections in an assignment.
Have a look at these modes of thinking.
1. Technological thinking
Also known as formulaic thinking, this is one of the kinds of thinking wherein the knowledge is already prepackaged from a variety of relevant sources. It is reliable as it centres around those practices that have been tried and proven useful.
For instance, the way teachers take attendance or helping students understand a concept. These practices have been going on for many decades and need no change.
2. Situational thinking
When students decide something using situational thinking, the main focus is on the data that is based on a specific context and time. Here, the need is to reflect upon the current situation and respond immediately.
One of the loopholes of situational thinking is that it does not ponder into the root cause of a problem, thus, it is not a reliable practice to think this way and decide.
3. Deliberate thinking
A student who reflects using deliberate thinking needs to garner more information than the given context.
One example of this type of thinking is when students deploy a wide range of theories and principles in their answers. It gives a wider perspective of the problem addressed and help them understand the conflict better.
4. Dialectical thinking
This mode of thinking is constructed upon the practice of deciphering the main essence of the situation and accordingly, generate possible solutions.
For writing a student reflection paragraph effectively, you need to know each of these modes so that you can apply these as and when the situation demands. Our experts have gained expertise in all these types of thinking and have a lot of experience in producing reflective writing using these four modes of thinking. So, if you have any questions regarding these, you can simply rely upon our guidance.
How To Write A Student Reflection Paragraph? A Step-by-step Guide For You!
Now that we are done discussing the different thinking modes that you need to use while reflecting, we are ready with a comprehensive guide to writing student reflection paragraph. One of the pros of seeking our student reflective essay services is that we will never leave your hand when you face any problem; rather, we will help you solve and ace them with ease.
Hover over to the following steps and make it a point to strictly adhere to this guide when you write your reflective essays.
1. Decide an appropriate topic for reflecting upon
Depending upon your subject requirements, decide which topic would best suit your interest. In case, you have already been given a topic by your professors, then you don't have to spend time thinking about the topic.
2. Brainstorm
To get new ideas, there's no other alternative to brainstorming!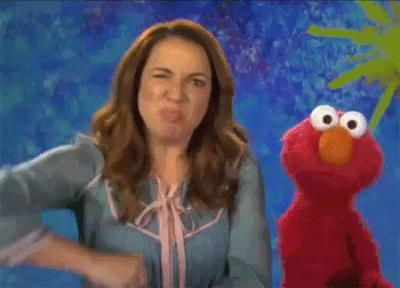 Jot down everything that you come across while researching as each of those points will come handy when you reflect on your topic. When you have all the relevant information about the topic, then you can decide upon your attitude towards the information collected.
3. Design an outline for the reflective essay
One of the most vital steps for writing a student reflection paragraph is to have an outline handy with you. Make a habit of writing down at least one line for each of the paragraphs, about what all you will include in your work.
With this outline, you will ultimately end up saving tons of time!
4. Question everything!
Remember the difference between descriptive writing and reflective writing? Owing to that, the main point to keep in mind in reflective writing is to question everything that you come across. When you have a variety of answers with you, then it will become easier for you to think critically and reflect upon the topic with the help of those answers.
5. Don't write too much
Remember that a reflective essay is never too long. Usually, it is approximately around 700-750 words. However, it is a general tendency of students to go overboard while reflecting upon their learning and experiences. Thus, our experts always advise students to stick to the guidelines that have been provided with the student reflection paragraph. It is clearly mentioned in it how much you have to write.
Sticking to this comprehensive guide to writing a reflective essay, you will be able to manage your work instantly, without any hassles. Do you want to know another benefit of seeking our student reflective essay services? When you get in touch with us and let us know your queries, we provide you with relevant samples to look at that are enriched with useful information for your work. Let us present one of the samples curated by us now for a better understanding of the student reflection paragraph.
A Well-structured Reflection Assignment Sample Drafted By Our Prolific Experts
Writing a reflection essay is often mentally strenuous for students as it requires an abundant amount of effort. While a lot of students might think to be an easy task as it is personal writing, the reality is the opposite. Being personal academic writing, there are not many sources to refer for help. This is what drives them over and again to our experts for guidance on their assignments.
Here is one of the best-written reflection essays by our proficient panel of academic writers.
This is the assessment brief of the reflection assignment that we received. Here, you can see the guidelines to be followed for writing a student reflection paragraph. The main objective of this reflection is to reflect on personal learning experiences to contribute to self-improvement.
Now, we present an excerpt from the solution to this assignment file for your reference.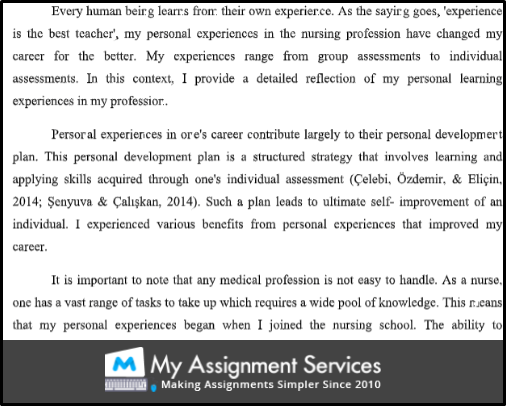 This is one of the student reflection paragraphs in the essay that we have drafted. Notice the personal tone that we have incorporated here. The use of 'I' is an integral part of such assignments. Also, the sources that we have used here have been thoroughly referenced as per the guidelines provided to us.
This is how a reflective essay is to be written. If you require us to furnish you with a complete solution to this question or any similar kind of questions, then you can always approach us. We will get back to you with instant answers.
Do You Feel Writing A Student Reflection Paragraph Is A Tedious Job To Do? Talk To Us Via The Live One-on-one Sessions Today!
My Assignment Services has become one of the most renowned organizations in Canada for student reflective essay services. With over 2,500 experts in our team, we have covered a variety of reflection assignments in different fields like nursing, law, management, economics and more. This way, we have become proficient in handling all your queries and equipping you with the appropriate solutions instantly.
Other than this, we have come up with interesting and lucrative benefits for our customers as well. To know more about them or to place an order with us, just give us a call right away!