While maternal health is a woman's health during her pregnancy, reproductive health includes all the issues related to a women's regenerative system. Although obstetricians' and gynaecologists' roles are usually mistaken for one another, they both vary, and yet are interrelated.
"You cannot have maternal health without reproductive health"- Hillary Clinton
Considering the quintessential role of reproductive health as a deciding factor of morbidity, mortality, and life span of an individual, the study of gynaecology has been gaining more and more prevalence across the globe since time immemorial. Therefore, along with bachelor's and master's medicine degrees, students pursuing other degrees, such as nursing, are also taught gynaecology as a separate subject, consisting of a plethora of topics and sub-topics.
Gynaecology, as a discipline, is complex and requires a student to be adequately dedicated and passionate for caring, which also has to be reflected in the assignments such students are presented with. This is the primary reason for rendering students to seek out for gynaecology assignment help.
My Assignment Services understands how imperative obstetrics or gynaecology assignments are, for the students, thus is the most sought for assignment provider in Australia. So, if you are also in need of obstetrics and gynaecology assignment help, do not hesitate to connect with the gynaecology and/or nursing experts at My Assignment Services to furnish immaculately written solutions for your assignments.
Who are Obstetricians and Gynaecologists (OB/GYN)?
Obstetrics and gynaecology, which are usually considered a single specialty, interestingly are two distinct fields:
Obstetricians (OB) treat conditions of the pre- and post-conception stages, including pregnancy and childbirth.

Gynaecologists(GYN), on the other hand, cater to all of the women's reproductive health-related issues, including the health of the ovaries, vagina, and uterus.
What Do Gynaecology Assignments Include?
Since gynaecologists need an acquaintance with all the essential skills to implement the correct treatment for the patient, suggest preventive measures, followed by diagnostic and disease management, a rigorous study is essential. Hence, the assignments on gynaecology are usually intricate, entailed by the detailed study of the topics solving a caring plan, and many more.
Moreover, for the prospective nurses, who are in the middle of their nursing degrees and are given assignments on complicated OB/GYN topics, completion of such assignments become very troublesome amid their ongoing stressful and hectic schedules. This makes students seek out obstetrics and gynaecology nursing assignment help providers , such as My Assignment Services to combat the terror of their assignments.
A very common type of assignment that both nursing and medical students are projected with is the case study of a wide variety of patient-care scenarios. These case studies are certainly important for gynaecology studying students as both nurses and medical professionals have to deal with an expansive range of patient scenarios. The case studies hypothetically simulate the clinical conditions in the form of a student assessment task. Furthermore, case studies can help the students to be prepared for similar situations that they will have to face in the future.
But due to the intensely analytical nature of these assignments, these require arduous efforts and a lot of time for their completion, which students cannot afford to expend in one assignment. To your relief, obstetrics and gynaecology nursing assignment experts at My Assignment Services can do all of that, just so you do not have to worry about your assignments. Our immensely qualified experts have been helping students in need of gynaecology assignment help for so many years now that they have become a pro at doing the same.
Having Trouble With Your Gynaecology? Get Yourself Some Gynaecology Assignment Help
We are now assuming that you are in a dire need for gynaecology assignment help and while there can be several reasons hampering your passion for your work, what has brought us to our doorstep?
Do you get no time for yourself because all of your time goes into memorizing concepts and applying them to your practical training sessions?

Is your instructor having high expectations from you and you are feeling even more pressurized?

Are you also busy continuously comparing you to your fellow mates having more efficiency?

Are you getting no time for your assignments because you are pre-occupied due to the college classes and the part-time work you are doing?

Or have you written your assignment and now you think that it will have grammatical or formatting errors that can compromise your grades?
Well, whatever your reasons are and whatever it is holding you back from either writing your assignment or submitting the work you have already done since you are already here, My Assignment Services will have your back anyway.
Why is My Assignment Services the Best?
So? Do you trust us enough to let us help you? With so many options available online, having a dilemma is perfectly fine. Let us show you an example of obstetrics and gynaecology nursing assignment help that a terrified scholar just like you once received from us.
Assignment task
Below is the Assignment task that the student was supposed to do.
You can imagine for yourself that the task could not have been completed without the proficient research praxis, writing and referencing style, don't you? To your surprise, all the work was very diligently completed by our nursing experts in the matter of a few hours.
The parts of the solution received by the scholar for the same task are attached below. See for yourself.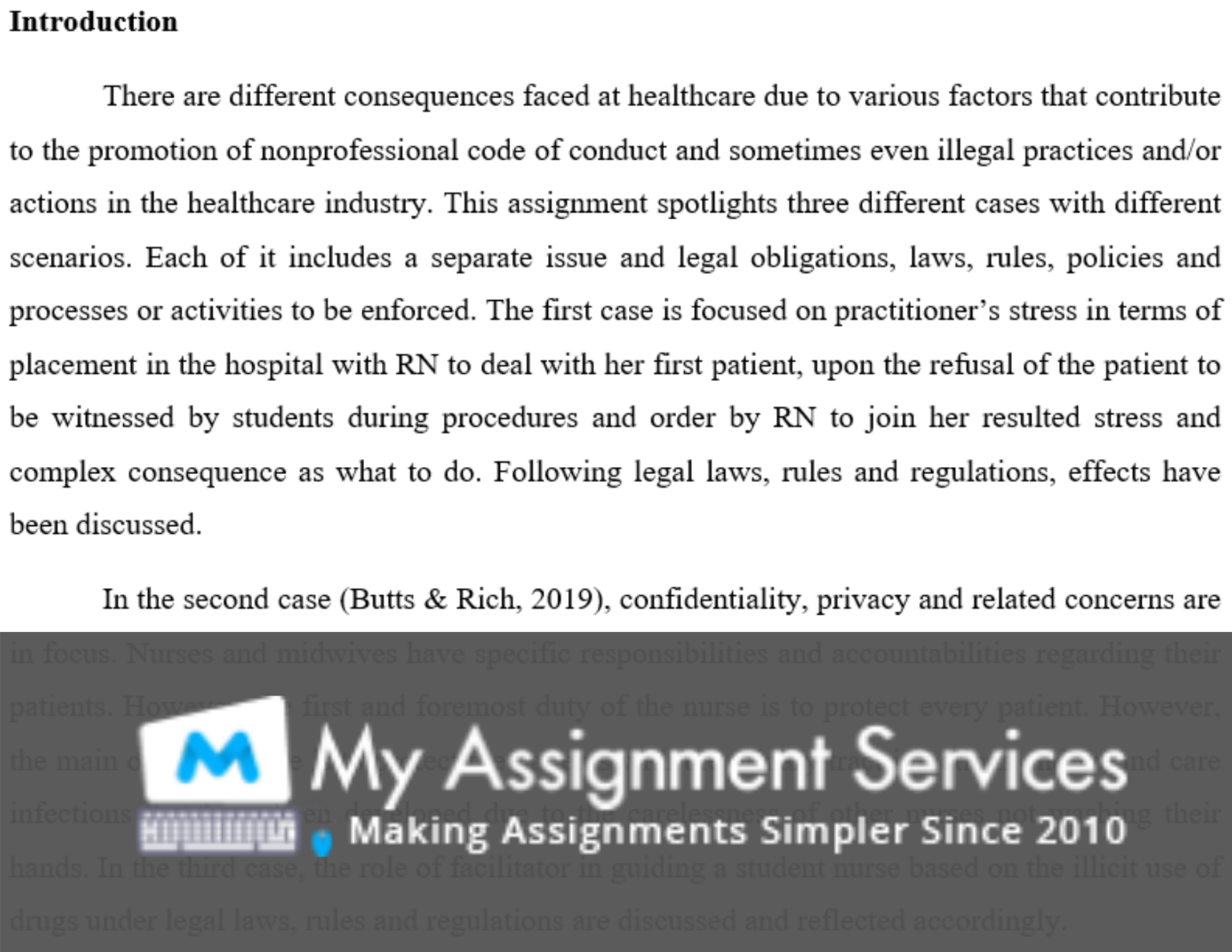 24 X 7 Support

100+ Subjects Covered

2000+ Ph.D Experts
Order Now
Why Choose Us?
If you are still not acquainted with the quality of gynaecology assignment help, we provide and if you are still searching for reasons for why to choose My Assignment Services, then we can assure you that you can have all the reasons that you can only imagine. Go on and read!
The 2000+ highly qualified assignment experts we have at My Assignment Services have PhD degrees from the top Australian universities and are thus well-versed with the scholarly conduct you need.

Moreover, our experts are available 24*7 for your assistance, so, connect according to your convenience. We are always here.

Come and get HD-grades worthy gynaecology assignment help as per your marking rubrics and assessment criteria.

Furthermore, get your 100% authentic assignment solution proofread, edited, formatted and referenced complimentarily. Get a free plagiarism report too.

Want unsurpassable quality solutions? Come and get unlimited free revisions if not satisfied.

Want to be updated every moment? We will have it covered too. Just login into our pocket-friendly mobile app and stay up-to-date.

Do not stress over missing your deadline again. Hand over the task and get the solution in just 8 hours. That is our turnaround time.

Let us be your confidant once. Our stone-clad confidentiality policies will keep your details safe.

Trust us, this assignment is not going to cost you a fortune as we are currently offering up to 50% off on all your assignments.

Come and get a bonus too. Yes, you heard it correct. We have a special reward program just for you. Get AUD 5 right on registration. You can even get your work done for free.